أهم العلاجات
26 علاج آخر
إستشارة متوفرة ب:
الإنجليزية و العربية
خدمات إضافية
النقل من المطار، مساعدة في حجز تذاكر الطيران، المساعدة في ايجاد فندق قريب من العيادة، النقل من الفندق الى العيادة؛ خدمات الترجمة
آراء المرضى
العيادة ممتازة جدا وتعاملهم جيد والدكتور وايد ممتاز وشاطر وطيب والمترجمة زهرة حبوبة وحنونة كثير وذات اخلاق راقية اهتمت بي من البداية الى النهاية شكرا لعيادة كيتوب The clinic great and their deal is very good The doctor is perfect,smart and does a good job plus he is very nice. The translator zahra is very kind with superior ethics she took care of me from the start to the end. Thank you so much ktop clinic.
22-Nov-2018
"The best decisions I've made and if given the chance. I'd do it all again" KTOP Clinic Discovering the Fountain of Youth and Beauty People expect that their physical appearance will change as they get older. However, I must say that I was not prepared to let go of my youthful look and I was determined to fight the signs of aging especially on my face. When I turned 40, I noticed the change in my facial skin texture as well as its form. It looks uneven – like it's missing some tissue masses in particular spots. Aside from that, I was bothered by my eyebrows. These are the frames of my face so I know how important it is to perfect them. However, no matter what I do, I cannot seem to get a perfect match of eyebrows. VIP Treatment for all. With that, I started doing some research as to how to solve such facial issues. When I saw rave reviews about KTOP Clinic, I decided to line them for a consultation. While some people believe in love at first sight, I experienced love at first step when I got to the clinic. I got the sincerest smiles, the friendliest words of welcome and the VIP treatment that everybody who goes to the clinic seems to get. The front desk even called a taxi for me, walked me outside and waited with me until I was safely seated. I cannot deny that I was impressed. I know right then and there that I am at the right place. What I did not know then was that I will continue to be impressed with more than just the looks of the clinic and the friendliness of professionals in the clinic. On my consultation, the doctors listened intently to what I say. They recommended Subbrow Lift to solve my eyebrows imperfection as well as Full Face Fat Transfer to fill and even out my facial tissues. The doctors explained everything clearly. They walked me through the process, explained the benefits, why they think that such services are perfect for my needs and patiently answered my questions. Lift is Right - Subbrow Lift by Dr. Pannawat Patthamawongjariya With any medical procedure, even cosmetic ones, I always expect that I will feel extreme pain. However, Dr. Pannawat pleasantly proved me wrong as I did not feel much pain, at least not as I expected. The doctor seemed to work on my eye lids with his hands patiently and expertly. He keeps encouraging me and keeping my eyes on the prize. I also expected to see some scars but thankfully, they were invisible, buried beneath my eyebrows. Face it - Full Face Fat Transfer by Dr. Nakin Panichnok What I love as much as having a perfect face is Dr. Nakin Panichnok is someone who clearly knows all about looking good as he is really attractive himself. Furthermore, aside from his good looks, he has a high and tasteful sense of humor. I feel that he cares for his patients as he comforted me and made me feel great. He is an expert in his field – knowledgeable, skilled and generous with information and his magical hands. He was even the last person to leave the Operating Room. I must say, I got better results than what I originally expected - a symmetrically beautiful face and fifteen years off my age. Throughout my career as a Psychologist, I understand that client's confidentiality is highly regarded and KTOP delivered that in their most respectful way. I could not recommend enough, KTOP Clinic is one of the best decisions I've made and if given the chance, I'd do it all again.
22-Nov-2018
I Did abdominal and sides liposuction (traditional, not vaser) and fat transfer (to lower eye area) surgery here. Was taken good care of from the first meeting, even without a scheduled appointment. Instant constructive responses in LINE for any questions I had. The staff speaks perfect English so communication won't be a problem. The surgery and followup after has been great too. As for the results it's only been a week. But happy with them so far. Might update later when fully recovered. Pricing was a little higher then some of the other international clinics I did enquires with. That's something to keep in mind. However I am still convinced that this clinic was the right choice. Note that I don't have any previous experiences to compare with.
22-Nov-2018
70 آراء أخرى
إتصل بالعيادة
اختر علاجا و احصل على التكلفة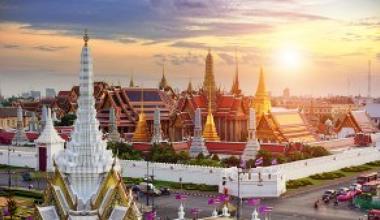 نصائح السفر تايلاند
اللغة: التايلاندية
العملة: البات التايلندي
المناخ: متوسط درجة الحرارة اليومية 85 فهرنهايت او 31 درجة مئوية
العاصمة: بانكوك
المطار الرئيسي: مطار سوفارنابومي
نوع الكهرباء: 220V 50Hz قابس كهرباء اوروبي اوامريكي
المنطقة الزمنية: UTC +7
الآثار والمعالم السياحية
بانكوك مدينة ساحرة و صاخبة بها أماكن جميلة تستحق الزيارة. تتميز هذه المدينة بأضوائها الساطعة, اجوائها الصخبة, كرم شعبها و الثقافة الحديثة المنتشرة بها. لا تفوت زيارة معبد وات ترايمت الذي يوجد به تمثال بوذا الذهبي المتميز الذي يزن خمسة أطنان و نصف من الذهب. تجول في شوارع المدينة و لا تفوت مشاهدة المنظر الخلاب من الجبل الذهبي
المطاعم و المأكولات الشهيرة
توجه إلى السوق في الحي الصيني، الملاذا الغذائي للجميع. في النهار أو الليل هي معبأة مع أكشاك السوق والمطاعم والمناظر خلابة من المعابد الصينية توجه إلى سوق الحي الصيني أشهر الأسواق الشعبية في بانكوك و الذي يمكنك أن تجد به كل البضائع التي تريدها. يعمل السوق ليلا نهارا و هو يضم أعدادا كبيرة من الأكشاك و المحلات و المطاعم و هوعديد المعابد الصينية. لا تفوت فرصة تناول أكلات الشوارع فهي جزء أساسي من الحياة في بانكوك أو طبق "كآو لآد كاينغ" الارز بالكاري الشهير
الفنادق وأماكن الإقامة
تتميز فنادق بانكوك بغرفها الواسعة المزينة و الجميلة، خدماتها الرفيعة و سمعتها الجيدة التي كونها خلال سنوات طويلة. افضل الاماكن للاقامة :فندق "أورينتال ريسيدنس" الذي يقع في شارع مزدحم بالقرب من السفارة الأمريكية، وهو المكان المثالي للإقامة إذا كنت ترغب في قضاء عطلة هادئة و ممتعة بالقرب من منطقة التسوق في سيام ومنطقة سيلوم التجارية .
إحجز فندقا في بانكوك, تايلاند